7 Best Sensitivity Training Programs: Reviews and Pricing
It is common for employees at any workplace to consciously or unconsciously develop biases against each other. This is where sensitivity and diversity training programs come in. They are specially designed to resolve such issues and create a work environment without prejudices. cookies
Sensitivity and diversity training programs are designed to create a safe and inclusive workplace for all employees.
It is common for employees at any workplace to consciously or unconsciously develop biases against each other. This is where sensitivity and diversity training programs come in. They are specially designed to resolve such issues and create a work environment without prejudices.
Business owners are quite aware of the importance of diversity in the workplace. That is why they encourage their HR professionals and employees to enroll in a reputable diversity training program.
As a CEO of a company, how would you know where to find a good workplace diversity training program? The internet is a great place to start looking. There are many online programs that offer sensitivity training to create awareness about inclusion and diversity.
Here, we will help you decide which sensitivity training programs are right for you or your employees so that they'll learn what they need to know about diversity in order to build an inclusive work environment.
Top 7 Sensitivity Training Programs
Some of the best sensitivity training programs available right now include:
1. HR Diversity and Inclusion Certification Program by HR University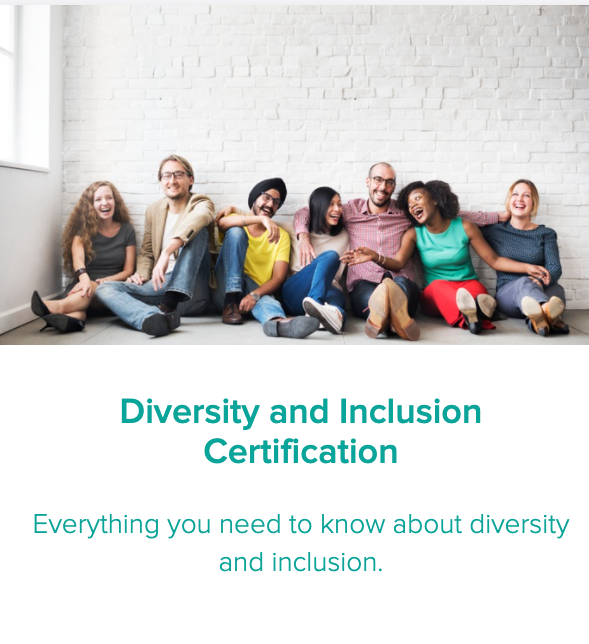 Price: $199
Duration: 20 hours
HR University specializes in HR management and sensitivity training. It offers one of the best sensitivity and diversity training programs, the HR Diversity and Inclusion Certification. The course is taught by highly qualified instructors and HR professionals who know all about workplace diversity and inclusion.
The diversity and inclusion training program showcase the latest practices and trends in sensitivity training. The curriculum is divided into three sessions, which go on for three days. Each session contains different diversity training materials such as:
Short videos
Interviews with HR professionals and diversity experts who also share their learning experiences
Quizzes
Tutorials
Case studies
More than 60 lectures
A sensitivity and diversity training program is an excellent tool for business owners who aspire to create a work environment based on equality. It is also designed for new employees and HR managers who are looking for growth opportunities. Whether you have a bachelor's degree or not, you can enroll in this course.
It is one of the few diversity and inclusion training courses that teach how to handle difficult conversations and questions about sensitivity and workplace diversity. It focuses on creating a balanced company culture.
The diversity training program covers the following diversity issues:
Micro behaviors
Different types of diversity
Unconscious bias among employees
Bias types and consequences
Microaggression management
Diversity management
Workplace bullying
Bias management
All types of harassment, for example, sexual and gender-based.
Discrimination against employees with disabilities
You can find out more about the course by visiting the website here.
2. Sensitivity Training Course by Oculus
Price: Custom Pricing / $162 Monthly Membership-Smart Package
Duration: Depends on Individual Plans
Canadian-based Oculus Training Group is one of the most prominent brands that offer various services to help organizations be more competitive. From customer service to employee development, they offer different types of corporate training.
As a fusion of many worlds such as customer service programs, sales experience work, employee training, and human resources consulting, they offer a wide variety of courses and workshops to target the specific needs of your company.
Their training options are available in three formats — trainer-led training at your location, webinars, and pre-recorded E-Learning tools like DVDs.
There are many training programs available to provide support to your staff and address their concerns. The diversity training program and its sessions give your team members the opportunity to learn about themselves as well as situational factors within your company.
Your diversity training sessions are usually tailored exclusively for trainees to address their specific needs. This results in the solution of your real problems through sensitivity training. Sensitivity training is only effective if it can lead to harmonious work culture and happy employees.
There are a lot of reasons this particular training program has made it to our list. First and foremost, it provides 100% customization, it's available online, it works on various devices, and uses standard Operating Procedures. It is ideal for someone who wants to learn how diversity works.
Some key sensitivity and diversity training topics covered are:
Anger & Stress Management
Building Connection & Showing Empathy
Body Language & Etiquette
Effective Communication
Bullying & Gender-based or Sexual Harassment
Cultural Sensitivity/Diversity
Racial Sensitivity
LGBTQ2+ (Lesbian, Gay, Bisexual, Transgender, Queer/Questioning, or Two-spirited.)
Generational Learning & Inclusion
If you want to learn more about the Oculus Sensitivity Training course, you can visit here.
3. Diversity & Sensitivity in the Workplace for Employees/for Supervisors by Compliance Training Group
Price: $19.99
Duration: 1 hour
Compliance Training Group is a national employment background screening and compliance training company headquartered in the Greater Los Angeles Area. It provides services to executives, supervisors, and employees. Compliance Training Group is multi-certified, with services ranging from Human Resources to workplace compliance training. The diversity training program is ideal for companies of all sizes.
The Sensitivity and Diversity training offered is designed to tackle cultural differences and create diversity awareness. The diversity training program helps participants become aware of other cultures and lifestyles. The diversity training program focuses on increasing empathy among co-workers. The goal is to make employees and management understand how prejudice and unconscious bias affect behaviors and attitudes within a workplace.
Diversity training involves practices that eliminate negative actions that create an unpleasant workplace for employees.
Some topics covered in the workplace sensitivity and diversity training program are:
Conscious or Unconscious Cultural & Racial Biases
Inclusion & equal opportunity
Discrimination Laws, Tackling Language Discrimination or Harassment
Religious Accommodation
Stereotypes &  Disparate Treatment
Employee Rights
Avoiding legal exposure
Suggestions & Practical examples of best practices
Activities- Such as discussion scenarios, interactive quizzes, games
Compliance Training Group has many programs available, including Diversity Training, Inclusiveness, Equity, Sensitivity, and Bias. This program helps in better decision-making when it comes to sensitivity and diversity.
Check out your various options here.
4. Diversity and Inclusion — Cornell Certificate Program
Price: $950/4 months
Duration: 2 Weeks
Cornell University offers a variety of high-quality diversity training programs in their online eCornell University program. All the diversity training courses are developed by the faculty of Cornell University with insights from professionals for maximum customer satisfaction.
They offer 4 diversity and inclusion training courses compiled towards the development of consistent sensitivity standards and policies that promote engagement levels while encouraging organizational culture change.
Some distinctive features of this diversity and inclusion course include:
Instructor-led course: Subject matter experts guide and provide challenges for thoughts and actions, and help tie your concepts into your real-world job scenarios.
Flexible schedule for busy professionals: Courses are offered at your convenience and fit into any schedule. It is ideal for both full-time and part-time workers.
Group learning: Each class is a transformative experience with fellow learners from diverse backgrounds. One hallmark of the course is the opportunity for group discussion, which helps classmates exchange insights and practices.
To get further information about this amazing diversity and inclusion training program, please visit Cornell here.
5. Culture-Driven Team Building Specialization on Coursera
Price: Free to Enroll with Paid Certificate
Duration: Self-paced (3hrs/week Avg.)
Coursera is a massive online learning platform that offers courses from top universities to anyone in the world.
This Culture-Driven Team Building Specialization course is offered by the University of Pennsylvania. The Ivy League school, Penn, is one of the oldest institutions of higher education in the United States.
This specialization caters specifically to team leaders and managers. Who learn the skills to form, lead and manage diverse teams more effectively. It includes courses on how to build culturally diverse teams and increase employee satisfaction.
This comprehensive specialization program also includes skills related to conflict management, emotional intelligence, motivation, and establishing rules.
67% of students who complete this program start new careers, and 50% say they have been promoted or given a raise.
There are five training courses total within this specialization, culminating in a capstone where you will apply the skills learned to an actual team culture case from N2Growth. Other advantages include;
It's a completely self-paced course
You'll be provided with a shareable certificate at the end
The course is completely done by the facilitator online
For further details about the sensitivity training program by Pann, please visit here.
6. Professional Certificate in Inclusive Leadership by Catalyst
Price: $132
Duration: Self-paced (1-2 Hrs/week average)
Catalyst is a renowned organization providing virtual learning workshops and courses for organizations of all sizes. One of their recent offerings, aimed at leaders in today's marketplace, is on diversity and inclusion.
The Inclusive Leadership Professional Certificate is an online program offered by Catalyst to help employers and managers build the necessary skills for inclusivity. It provides students with detailed case studies, lectures, discussions, and assessments.
The goal is to learn Inclusive leadership skills that can take your diverse team to the next level of performance and are applicable in any setting.
This training program has a total of three training courses;
Becoming a Successful Leader
Get Beyond Work-Life Balance
Leading with Effective Communication.
Enroll in Catalyst's Certificate in Inclusive Leadership program and learn more about becoming a leader who values human diversity, upholds inclusion as imperative for organizational success, and understands how different both enhances group intelligence and increase understanding among people with divergent perspectives.
The course is self-paced, with flexible deadlines. Most students can finish the course in about three months.
If you are interested in this certificate you can click here for more information, such as email address and other contact details.
7. Identify and Overcome Unconscious Bias by AMA - How to Improve Workplace Diversity
Price: $1,245
Duration: 1 Hour
The American Management Association (AMA) is an international nonprofit, membership-based company that provides a variety of management development and educational services to members. AMA provides individuals and organizations with the knowledge, skills, and tools to achieve innovation excellence.
This diversity training course is suitable for all professionals in the workplace who want to promote an inclusive environment and Understand the importance of the effects of unconscious bias. The diversity and inclusion training course covers:
Defining Bias
Understanding Bias
Overcoming Bias
Understanding Allies
Becoming an Ally
Action Planning
Available as both an online and in-person class, this sensitivity and diversity training course is a 1 hour-long lesson. You can choose your location and schedule to best fit your needs. anyone who completes the course gets 0.6 CEU and 6 Professional Effectiveness (PE)
Discounts are available for members of the American Management Association. If you are interested in the diversity course, you can get further information here.
FAQs for Sensitivity Training Programs
Here are some of the most common questions about sensitivity training programs.
What is sensitivity training?
Sensitivity training is simply giving employees an opportunity to see themselves differently, focusing on their patterns and strengths, while paying good attention to others around and their differences, so they can all work together in a safe and conducive environment.
This program is particular about making employees aware of their individual differences and how it affects their attitudes and behavior toward others. This includes differences in race, color, gender, sexual orientation, religion, age, ability, sexual orientation, ethnicity, and as many differing opinions that we may have.
Sensitivity training is also about teaching employees how to accommodate people who don't look, behave or think the same way as they do, not just as a result of gender or race, but as a result of their communication, health, and other differences.
What should be included in sensitivity & diversity training program?
Just like its name depicts. It's sensitive. And as a result, there's a long list of important elements that have to be included for it to count as something. They include;
An introduction to sensitivity training, by giving a good background for the increased awareness of one's own biases and stereotypes.
An understanding of how they can affect perceptions and decisions
A good way to continue is by acknowledging that there are differences in people, cultures, and lifestyles
To do this, the program should provide participants with a framework for examining their beliefs about different groups
It also helps to have an interactive component that allows people to practice new behaviors and skills
Once you've identified the problem, find out why it exists and who benefits from it
After that, create an action plan for change with concrete steps on how to achieve the desired outcome
Make sure everyone involved knows their roles so they know what they need to do when things don't go as planned
Finally, it's important to be aware of the limitations of these programs - there are no guarantees that they will work or last long-term if used alone.